Whether it's the downturn in the economy or the increasing popularity of DIY television shows, one thing is certain; homeowners are tackling more home projects themselves. A lot of first-timers are learning new skills and using new tools so they can finish projects ranging from simple maintenance and crafts to room renovation.
Most DIYers will begin with the basics — a hammer, screwdriver and measuring tape — and will move onto air-powered tools and electric tools once they feel comfortable. For those looking for a cost-effective and efficient way to get the most from their tool purchases, the first step is to buy an air compressor.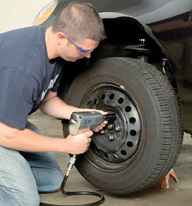 The compressor is the heart of any air-powered system. Air compressors are available in a wide range of sizes and different air delivery capacities. It is important to match the size of the compressor to the types of tools and projects to ensure optimal performance.
While inflating tires, sports balls and air mattresses are the most common tasks performed with a compressor, this piece of equipment can help with so much more. An air compressor is so versatile because it powers a wide array of air tools that operate more quickly and less expensively than traditional power tools. Nailers, blow guns, spray guns, ratchets, impact wrenches and chisels are common air tools. They allow DIYers to more efficiently sharpen mower blades, remove lug nuts to rotate tires, paint furniture, build a deck or fence, install chair rail and crown molding, perform engine repair and more; the possibilities are almost limitless.
Campbell Hausfeld, a manufacturer and marketer of air-powered tools and compressors, has several models available designed for simple applications in the home, garage or workshop. They also offer units for more frequent use such as automotive, lawn equipment and small engine repair.
Air compressors require very little maintenance — users only need to drain the tank after each use to prevent condensation buildup. Discharging the compressed air from the tank is as simple as loosening a valve.
Regardless of the experience level or type of project, homeowners interested in getting more bang for their buck on their next home project should visit www.chpower.com to get started.